York escaped Wallaby found by North Yorkshire Police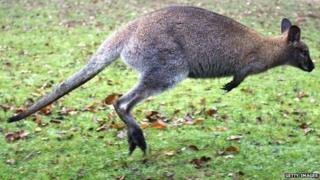 An escaped wallaby that forced part of York's outer ring road to close has been found by police.
The A1237 between Haxby and Strensall closed at about 18:00 BST after the animal was seen near the road.
A wallaby was reported as being loose in the city on Tuesday evening and police were advised by the RSPCA to leave it to roam free.
North Yorkshire Police said officers had "detained" the wandering wallaby with the help of a vet.
The force tweeted: "Good news. The Wallaby has been detained, no handcuffs required thanks to the help of a vet and lots of muddy officers."
It took about 15 officers to find the animal.
A tranquilliser dart was used to stop the wallaby and it is now being cared for at Askham Bryan College.
The road reopened about two hours later.