Two City of York Labour councillors quit party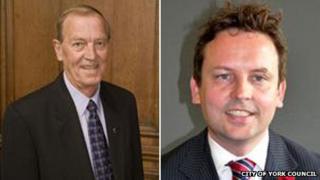 Two Labour members of City of York Council have left the party amid claims of secrecy and a lack of sympathy.
David Scott and Ken King resigned the Labour whip on Thursday.
Mr Scott said the Labour group had become "shrouded in secrecy", and Mr King said it had been "unsympathetic" after he was diagnosed with cancer.
Labour group leader James Alexander said he felt they had resigned after being deselected. Labour now has 21 of the 47 seats on the council.
Announcing his resignation from the party, Mr Scott, a former leader of the group, said: "It's been a very difficult decision. I've been a Labour Party member for over 20 years.
'No compassion'
"I feel that this group is shrouded in secrecy, the leadership show no leadership, and I think the Labour members ought to go now and reclaim the party."
Mr King, a councillor 33 years, said he was shown no compassion after being diagnosed with cancer in 2011. "They were definitely unsympathetic to me," he said.
He said that the chair of the group, Ruth Potter, had told members not to select him to stand for election in 2015 because he was "inadequate". Mrs Potter declined to comment on Mr King's claims, saying that his argument was with the party's national executive, not her.
'Long-standing servants'
The resignations come a month after Helen Douglas, who also represents the Clifton ward, defected to the Conservatives.
Mr Alexander said: "They have both been long-standing servants of the party and, obviously, it saddens me when these things happen."
He went on to say both Mr King and Mr Scott should stand down and force by-elections.
"People elected Labour in the city to lead the council. It's up to people to decide whether Labour still continues to do so. It shouldn't be up to individual politicians because of their own gripes."
The council has 10 Conservative councillors, eight Liberal Democrats, five independents and two greens.
A by-election is to be held on 16 October in the Westfield ward to fill a vacant seat there.