York sports stadium funding given go-ahead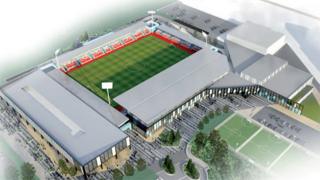 Councillors in York have voted to borrow an extra £4m to keep plans for a community sports facility on track.
Work on the the 8,000-seat stadium stalled earlier this year following procurement problems and the discovery of newts at the Monks Cross site.
City of York Council said in September it needed further funding to help build a leisure complex at the facility.
It gave plans to borrow another £4m the go-ahead at a meeting on Thursday night.
The total cost of the site is £37m and is part-funded by the council, with the rest coming from grants and revenue from commercial developments.
Sophie Hicks, from the council, said: "The stadium is intrinsically linked to the leisure project so that funding was absolutely essential.
"This decision needed to be made in the best interests of the people of York,."
When it opens the stadium will be home to York City football club and York City Knights rugby league team.
The complex will also include a gym, artificial football pitches and a swimming pool, which will replace Waterworld when it shuts in December.
Work is expected to start next year and be completed by summer 2016.