Ex-Archbishop of York quits church role over abuse report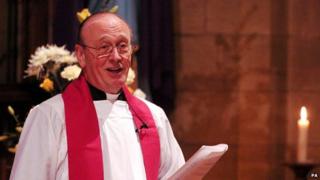 A former Archbishop of York has resigned from his church role after a report criticised his handling of child abuse allegations.
A report by Judge Sally Cahill QC said Lord Hope of Thornes failed to follow policy and take advice after he was informed of complaints against a cathedral dean.
Lord Hope stepped down as Archbishop of York in 2005.
He became parish priest in Ilkley and was made a honorary assistant bishop.
The report published last week outlined failures by the Church of England to respond properly to allegations of sex abuse against the late Robert Waddington, who was Dean of Manchester between 1984 and 1993.
Judge Cahill said Lord Hope's actions meant "opportunities were missed" to start an investigation which might have led to a prosecution.
'Profound apology'
She added: "We consider the failings of Lord Hope were cumulative over the period, and arose as a result of Lord Hope not following the Church's policies and instead dealing with a child protection issue in what appears to have been the way he would deal with a disciplinary matter or complaint."
The judge said it was not possible to say what the consequences would have been if the former archbishop had acted differently.
In a statement, Lord Hope said: "After much prayerful and considered thought I wrote at the beginning of the week to the Bishop of Leeds and in the light of the Cahill Inquiry Report I have submitted my resignation as Honorary Assistant Bishop of Bradford, now West Yorkshire and the Dales, with immediate effect."
Last week, he offered a "personal and profound apology" to the victims if they felt they had been denied justice.
The current Archbishop of York, Dr John Sentamu, said he was saddened by Lord Hope's decision.