Yorkshire pensioner dies in 260ft cliff fall at Malham Cove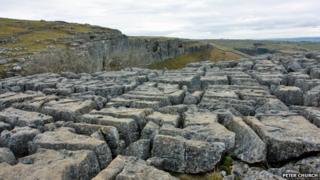 A 72-year-old man has fallen to his death while out hiking in North Yorkshire.
The man, from West Yorkshire, was walking alone along the top of the 80-metre high (262ft) Malham Cove cliff when he slipped and fell at about 04:45 BST on Wednesday.
North Yorkshire Police said the death was not suspicious and believed it to be the result of a tragic accident.
The body was recovered from the scene by the Cave Rescue Organisation.