North Yorkshire plans fresh round of library cuts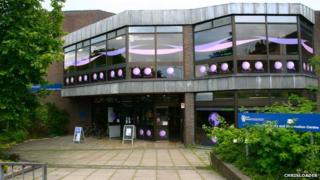 Some 20 libraries in North Yorkshire could be closed if community groups are not found to run them.
North Yorkshire County Council has already transferred nine of its 42 libraries to community groups.
Under new proposals to save £1.6m by 2019-20, the council would retain seven core libraries in the county's main towns.
A consultation on the proposals will run until February with a final decision expected in mid-2015.
Chris Metcalfe, North Yorkshire County Council's executive member for library services, said the community libraries had proved to be of great value.
The Conservative-controlled council said the library budget will have fallen from £7.8m in 2010 to an expected £4.2m by 2019-20. It has already saved around £2m.
Under the plans, the core libraries, based in Harrogate, Malton, Northallerton, Richmond, Scarborough, Selby and Skipton, would be run by county council library staff and volunteers.
A further group of five libraries in smaller towns would have one paid member of staff only and the remainder would need to be taken over by voluntary groups.