More than 130 guns handed to North Yorkshire Police during amnesty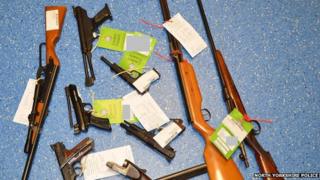 More than 130 guns have been handed in to police in North Yorkshire during a two-week amnesty.
The 137 weapons included 52 shotguns, 33 air weapons, seven rifles and a gun disguised as a walking cane.
North Yorkshire Police said 628 rounds of ammunition and 417 shotgun cartridges had also been handed in.
The force said it was "very pleased" with the response to the amnesty, which ran from 1 to 16 November as part of a national initiative.
The amnesty was prompted by a change in the law in July, when the maximum penalty for possession increased from 10 years' imprisonment to life.
Owners of unwanted firearms, replica and BB guns were able to hand them over without fear of prosecution.
Dave Coutts, head of firearms and explosives licensing at North Yorkshire Police said: "We are very pleased with the response to the amnesty.
"137 weapons are now out of circulation which could have led to serious consequences had they gotten into the wrong hands."