City of York council leader James Alexander to step down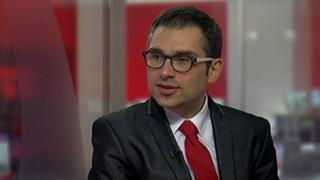 The leader of City of York Council has announced he is to step down, citing the impact of "personalised politics" on his family life.
Labour's James Alexander said he was resigning to pursue a new career after three-and-a-half-years in post.
News of his resignation came as the Conservative party, the largest opposition group, called for a vote of no confidence in the council leader.
Mr Alexander, 32, said he would step down on 11 December.
A replacement leader is expected to be announced next month.
Analysis: Nick Morris - North Yorkshire Political Reporter
It began so promisingly. At 29, James Alexander became England's youngest council leader when Labour took York in 2011 with 26 of 47 seats.
The honeymoon was short. People felt betrayed when the authority repeatedly refused the government's council tax freeze during the height of the recession.
Then the defections - five in all, costing Labour its majority. There were accusations of secrecy, control-freakery and frenzied whipping.
Finally, the party's personal Arnhem: Lendal Bridge, followed by defeat of its Local Plan.
James Alexander tells me his party will have a new leader by the 11th December - the day York's council will likely choose its new leader.
Mr Alexander, who was appointed in May 2011, said: "I've done this for almost four years and a new opportunity has come up.
"Also, the long hours and the personalised politics in York has taken it's toll on me and my family and I think I need a rest."
Mr Alexander, who was elected as councillor for Holgate ward in May 2007, said he had accepted a job as policy officer for local government with the national Labour Party in London.
He said he would continue as a councillor until May.
The Labour group in York has suffered a series of setbacks under Mr Alexander's leadership, including the overturning of controversial traffic restrictions on Lendal Bridge.
The group also lost its majority after one of its councillors defected to the Conservatives and two resigned the party whip.
City of York Council
Labour: 21 seats
Conservatives: 10 seats
Liberal Democrats: Nine seats
Independents: Three seats
Greens: Two seats
Labour Independents: Two seats
"I would not say the pressure got to me but it certainly influenced my decision," Mr Alexander said.
"I've been incredibly resilient over the last few years and I think many other people would have toppled ages ago.
"I'm proud of our achievements, but there comes a time when you've got to start thinking of your family and thinking of what that impact is."
Calling for the vote of no confidence, Conservative group leader Chris Steward said Mr Alexander had "ridden roughshod over the council" and concentrated on "flashy vanity projects" rather than "real concerns".
He said since Labour lost overall control, it had become evident "a new style of leader was necessary to work with the new political balance until the elections in May".
Mr Alexander said: "I'm sure they got wind that I was going to make this announcement and therefore they wanted to be able to say that I was pushed and that's certainly not the case."