York Labour councillors elect new leader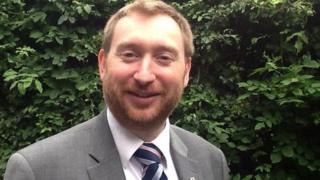 Labour councillors in York have elected a new leader, following the decision by council leader James Alexander to stand down from the role.
Dafydd Williams now be will be put forward as Labour's choice for council leader at a meeting of all councillors on 11 December.
The 36-year-old, who has been a city councillor since 2011, said being appointed was an "incredible honour".
While Labour has the most seats on the authority it does not have a majority.
Mr Alexander announced that he was resigning to pursue a new career after three-and-a-half years in post.
Mr Williams paid tribute to his "vision and drive" and wished him every success for the future.
He said: "I'm really looking forward to the challenge and the chance to change the way politics is done in York.
"Too often our politics has been done by attacking individuals and negative campaigning, which leaves residents cold.
"I look forward to sharing my vision for the city in the coming days so that councillors know exactly what I stand for before voting for a new council leader on 11 December".