Lendal Bridge fines: Refunds pledge for all drivers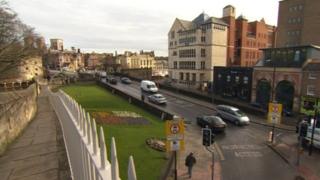 All drivers fined for crossing York's Lendal Bridge during a trial closure to tackle congestion are to get refunds, a Labour group leader has pledged.
About 56,000 fines totalling more than £1.3m were issued during the trial from August last year to April.
A traffic adjudicator said the council had "no power" to issue fines because signage and CCTV were inadequate.
Newly elected Labour group leader Dafydd Williams said all those fined would be contacted for a refund.
Fines were issued while restrictions banning general traffic from using the bridge between 10:30 and 17:00 were in place.
The council's scrutiny committee voted five to four against automatic refunds on 5 August.
Refunds 'fairly clear'
In September, the authority offered to return money as "a gesture of goodwill" and had said refunds would only be issued to those who made a claim via the council's official application process.
Councillor Dafydd Williams, who was elected leader of the Labour group on Saturday, said: "It's fairly clear people want the fines to be repaid.
"We're going to write back to everyone who was fined and offer them a refund."
Mr Williams defended the trial calling it a "genuine experiment to do something serious about trying to tackle congestion in York". But he admitted the authority had got it wrong over the refunds.
The authority had previously said it would publish the total cost of the Lendal Bridge "settlement" after 31 December.
Councillor John Galvin, the Conservative chairman of the scrutiny committee, had said he was "disappointed" by the council's initial decision and it was fair for drivers to be automatically refunded.
But James Alexander, who is stepping down as the Labour leader of the City of York Council on 11 December, previously claimed the authority had acted correctly over the refunds and blamed opposition parties for delaying repayments.