York Viking treasure back on display after conservation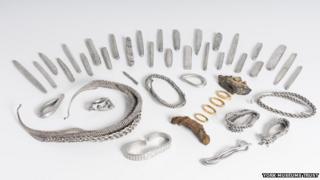 A hoard of Viking jewellery discovered by a metal detectorist has gone back on display at the Yorkshire Museum in York after restoration.
The Bedale Hoard was found in a field in 2012 and was bought by the museum after a public campaign raised £50,000.
It includes a gold sword pommel, a silver neck ring, silver ingots and an armlet.
The collection was described as a "nationally important discovery" by experts at the British Museum.
It has been restored by a team at the York Archaeological Trust over the last few months.
The hoard, believed to date from the late ninth or early 10th century, was found by metal detectorist Stuart Campbell.