York City Football Club signs up to York Community Stadium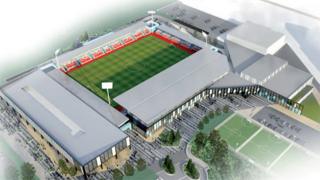 York City Football Club has signed a long-term tenancy with a £37m community stadium.
The agreement between the club and York Community Stadium secures a £2m contribution from the club towards the cost of the ground.
Construction of the 8,000-seat stadium at Monks Cross is due to start in the spring and be finished by summer 2016.
Work was due to start earlier this year but was delayed because of a discovery of great crested newts on the site.
The new Monks Cross shopping development on the outskirts of York was also delayed by the newts.
York Community Stadium will be home to the York City Knights rugby league team and the city athletics club.
As well as the main stadium, the complex will include a swimming pool to replace Waterworld, a sports hall, gym and artificial football pitches.
It will also have facilities for York Teaching Hospital NHS Foundation Trust and York St John University.
York City Council has invested £8m in the stadium, with the rest coming from grants and revenue from commercial developments.
'Family destination for North'
Councillor Sonja Crisp said the football club signing was a "significant milestone" in the stadium's future.
She said it would be a "leading family leisure destination in the North of England".
York City FC chairman Jason McGill said the Football Stadia Improvement Fund (FSIF) supported the club's £2m contribution.
"Without the wonderful support for the FSIF since the dark days of 2003 and 2004, I am in no doubt that York City Football Club would have sunk into oblivion and would not be on the verge of occupying a fantastic new stadium in 2016," he said.
The club previously said refurbishing the Bootham Crescent ground was not financially viable.