Bishop of Knaresborough leads Ripon Cathedral pilgrimage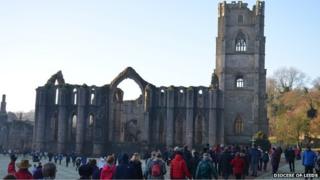 Hundreds of walkers have taken part in an annual Boxing Day pilgrimage led by the Bishop of Knaresborough, the Rt Rev James Bell.
The four-mile walk follows the route of a group of 12th Century Cistercian monks who set off from Ripon Cathedral on 26 December, 1132, to found Fountains Abbey.
The walk culminated with a short service of carols and prayers.
In 2013 about 1,000 people took part in the pilgrimage.