River Ouse flood warnings near York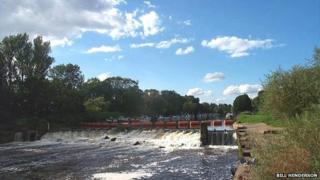 Several flood warnings have been issued by the Environment Agency for the area surrounding York.
A red flood warning is in place for the River Ouse at Naburn Lock, just south of the city. Two other parts of the Ouse have less severe orange flood alerts.
The agency said water levels at Naburn Lock would remain high.
Innes Thomson, from the Environment Agency, warned the public to stay out of flood water.
Mr Thomson said that the flood risk was due to the ground being saturated with water.
"Any extra water on top of that very quickly means that our river levels come up, " he said.
"But equally quickly they go down again if we get some dry weather."
He added: "Even the shallowest of water can be dangerous if you are on foot or even in car.
"The Environment Agency's advice is don't go into flood water if you see it."