Former North Yorkshire RAF base reopens as airport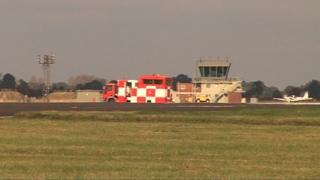 A "fly-in" of light aircraft has been held to mark the reopening of a former RAF base in North Yorkshire as a commercial airfield.
The Church Fenton base was closed by the Ministry of Defence in December 2013.
It was bought by businessman and pilot Chris Makin just before Christmas.
Mr Makin said he intended to develop the site as a base for private planes and passenger flights by small airlines.
"There is a huge demand in the area," he said.
"There are a lot of small airfields in Yorkshire, but of course the quality of the facilities here are second to none."
'Quite touching'
The site covers almost 500 acres and has two runways.
The airfield was built in the 1930s, and served as a fighter base during World War Two.
In its later years it was the home of a flight training unit, as well being the base for the Yorkshire Universities Air Squadron.
Mr Makin claimed he had received a lot of support from locals and other pilots for his plans.
"The support and nostalgia and people who want to part of it is quite touching to be quite honest,"