York's new archive for 800 years of city documents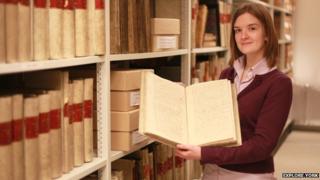 A new home for the archive of 800 years of York's history including the city's charter of 1155 has opened after a £2m renovation.
The centre at Library Square, Museum Street, York has been closed for seven months during building work.
The refurbished building includes a store, reading room, local history library and family history centre.
The archive was previously housed in "overcrowded and damp" rooms at York Art Gallery, Explore York said.
The store includes the city's letter of condolence after the death of Richard III and holds historic documents in a controlled climate on electronic shelving.
'Fabulous new beginning'
The documents have been catalogued and relabelled to make them easier to use.
More than 6,000 printed books and maps have been catalogued and can be browsed online and on site for the first time.
Not all of the city's archives are available to look at but work to catalogue and preserve the material is ongoing.
Victoria Hoyle, city archivist, said: "This is a fabulous new beginning for the archives."
In 2014 Explore York Libraries and Archives became a mutual benefit society with charitable status supported by but separate from City of York Council.
It is committed to keeping York's 14 libraries, two reading cafes and mobile library open, with paid staff in every one.
The refurbishment project was funded by the Heritage Lottery Fund and York City Council.