Scarborough hospital 'major incident' status lifted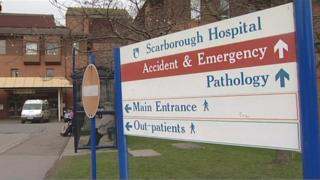 A hospital struggling to cope with patient numbers has lifted its major incident status.
Scarborough Hospital implemented the emergency measures on Monday after experiencing "unprecedented demand" on emergency services.
The trust that runs the hospital said the situation had improved but it would be kept under review.
Chief executive Mike Proctor said he hoped to open beds at Malton and Bridlington hospitals.
Malton is about 24 miles (39km) from Scarborough and Bridlington is about 17 miles (27km).
'Right decision'
A statement from York Teaching Hospitals NHS Foundation Trust said the hospital remained busy and the situation would be monitored.
Robert Goodwill, Conservative MP for Scarborough and Whitby, said the hospital had made the right decision to declare a major incident.
He said there were "increasing numbers presenting at A&E with non-emergencies" and about 30% of patients could be treated at a GP surgery or pharmacy.
Elective surgery at the hospital was cancelled on Monday and 17 more people due for surgery at the hospital had been warned more operations could be cancelled.
Mr Proctor said the hospital would have been able to "put more beds up" if it had the staff to look after those patients.
He said there was a "major issue" recruiting doctors and nurses in the NHS and emergency medicine was an "unpopular speciality" at the moment.
'Wards full'
He revealed the trust was planning to try to recruit nurses from Spain in February.
Ray Gray, from Unison, said its NHS members were "angry because they can't do the job they are there to do".
He said some members were looking at a job they once loved and were now saying: "I can't do this any more."
Scarborough Hospital is the trust's second-largest hospital and services population and visitors to the north east of the Yorkshire coast.
When Mr Procter visited the hospital on Monday he said every ward was full and 18 patients were on beds in the A&E department as no beds were available in the wards.
In January 2013 Scarborough was one of 17 NHS hospitals failing to operate with safe staffing levels, the Care Quality Commission said.