Work starts on £14m Scarborough North Bay water park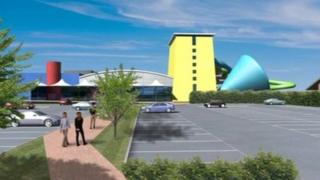 Work on a long-planned water park in Scarborough is to get under way later.
The £14m North Bay park should take about 14 months to complete and is scheduled to open by Easter 2016.
It is to include indoor and outdoor pools, waterslides and a spa, and is part of the £150m Sands development in the North Yorkshire seaside town.
The work, halted by developers Benchmark Leisure in 2009 due to the economic downturn, got a loan of £9m from Scarborough Borough Council.
The water attraction, which the developer says could attract about 500,000 visitors a year, is to be built on a 13 hectare site of the Burniston Road car park.
In September 2013 the council decided by a single vote to provide the loan for the park.
The developers said the money should be repaid within five years of opening.
Plans for the water park were first released in 2005.