£1m scheme to reduce flood risk in Whitby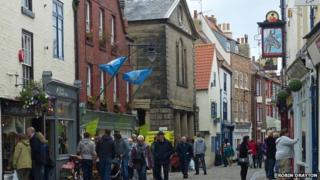 More than 60 properties in Whitby are expected to benefit from a scheme to reduce the risk of flooding in the town.
The £1m scheme would include the construction of flood walls and gates along Church Street.
The town suffered significant flooding following a tidal surge in December 2013.
Scarborough Borough Council said the scheme would not damage the character of the town.
Funding for the project has been provided by the Environment Agency, the Yorkshire Regional Flood and Coastal Committee and the council.
Construction is expected to begin in 2016.