Harrogate's Winterland closed by 'negative publicity'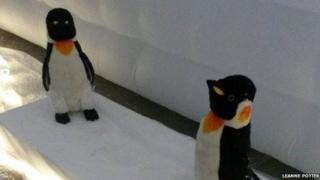 The organisers of a Christmas attraction in Harrogate that closed just days after opening are blaming negative publicity and delays in health and safety checks for its failure.
The BBC has seen a report in which Yorkshire's Magical Winterland's company directors say what went wrong.
Pictures posted on social media "ridiculed" the attraction and the media "condemned" it, organisers said.
The company is now in liquidation with thousands of people waiting on refunds.
More than 500 people commented on Facebook on the attraction on its opening day, mostly complaining about its poor quality.
'Increasingly aggressive'
The report seen by the BBC was written by the directors of the firm in January when a liquidator was appointed to wrap up the company.
The directors said that on its opening day the attraction was badly received by "a very small minority".
They also said health and safety checks on inflatables had happened later than planned, so some of the displays inside them could not be set up until the afternoon the attraction opened.
The Winterland then closed for improvements to be made, with a team working through the night, but organisers said "the media had already begun to condemn the event".
In the report, the organisers said customers arrived at reception "becoming increasingly aggressive to staff with threats of violence" and requesting immediate refunds.
The directors added that they had no choice but to close permanently as a result.