'Boasting' Northallerton nightclub rapists jailed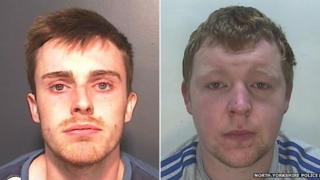 Two men who "laughed and boasted" about raping a girl outside a nightclub have been jailed for nine years.
Kristofer McLaren and Craig Whitelaw, both 21, attacked the 18-year-old on 10 August after meeting her at Club Amadeus, in Elder Road, Northallerton.
Teesside Crown Court heard the two men bragged about the assault to a taxi driver as they left the scene.
Police said McLaren and Whitelaw, both from Thirsk, treated their victim "like a piece of meat".
They were were found guilty of rape following a trial, but cleared of a second count of rape.
Whitelaw was also convicted of sexual assault, for which he was sentenced to four years in jail to be served concurrently.
'Sustained attack'
Det Insp Fiona Wynne, from North Yorkshire police said: "I am delighted that justice has been delivered for the victim.
"She was subjected to a sustained attack by McLaren and Whitelaw. They treated her like a piece of meat and left her bleeding and distressed.
"They laughed and joked about it afterwards, even boasting to the taxi driver about what had just happened when they left the scene."
The victims' parents paid tribute to the force, saying: "From the minute the police picked our daughter up she has been treated with the utmost respect and sympathy by everyone who has had contact with her."