Tour de France visitors spent £19m in Harrogate district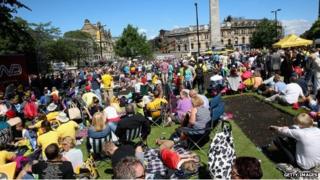 Last year's Tour de France pumped £19m into the local economy around Harrogate as 310,000 people lined the district's roads, a council report says.
The first stage of the race ended in the North Yorkshire spa town on 5 July.
Harrogate council leader Richard Cooper said: "Residents were captured by the romance of the tour.
"It raised our profile considerably on the world stage, huge numbers flocked to the region and it had a significant impact on the economy."
The Economic, Social & Cultural Impact on the Harrogate District report said that of the 310,000 spectators in area 180,000 (58%) were visitors who came from outside specifically to watch the race, spending a total of £17.6m.
Tourism record
Another £1m was generated by 151 Yorkshire Festival performances and event days which took place in the district in the 100 days leading up to the Tour.
Spending by race organisers and race teams added another £600,000 to local coffers.
The Tour de France route covered a total of 50 miles (80.5km) within the Harrogate district, taking in nearby Ripon, Knaresborough, Boroughbridge and Pateley Bridge.
The report said there were 102,600 visits to Tourist Information Centres (TIC) in the district between 1 July and 30 September 2014 - the highest quarterly figure on record.
It added that 94% of district residents agreed the Tour has been good for the local area and 63% of spectators felt inspired to take part in sport more as a result of watching the race.
In the last year businesses within the district's tourism sector had seen a 73% rise in visitors from other parts of the UK and 53% from overseas.