London flights bid for ex-RAF base Church Fenton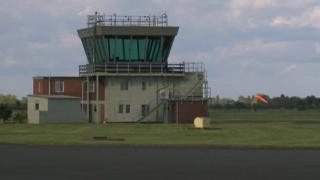 The new owner of a former RAF base in North Yorkshire is aiming to operate daily commercial flights to London within a year.
Pilot Chris Makin bought the Church Fenton base last Christmas after the Ministry of Defence closed it in 2013.
Mr Makin has renamed it Leeds East Airport and wants it to become a rival to Leeds Bradford Airport.
"London City airport would be an hour from here, we're looking at a 25-seater maybe up to a 70-seater jet," he said.
"We're looking at business customers mainly, so we can do a scheduled service on a daily frequency during the week.
"We're very close to the A1 and very accessible and I think that's a major attraction."
The airport hopes to be granted a civil licence by August.