York electric buses in safety checks after fire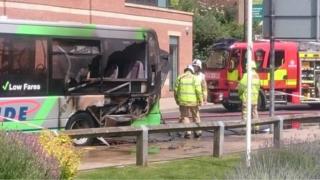 Electric buses have been removed from service in York following a fire onboard a vehicle.
No-one was injured in the fire on board the Park and Ride service on Stonebow at around 11:45 BST on Thursday.
First, which operates the vehicles, has removed all 11 buses while it carries out safety checks.
The company said services were running as normal and the electric vehicles would be reintroduced once safety assessments were completed.
The vehicles, which run on rechargeable lithium batteries, have been used in the city since 2014.
First said an investigation into what caused the fire had been launched.
The company also thanked the driver who stopped the vehicle after a warning light came on and removed the passengers.