Northallerton's former prison to open for tours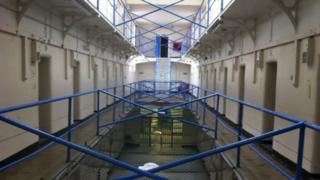 A former prison in North Yorkshire is to offer tours around its defunct buildings before the site is redeveloped.
Northallerton Prison was built in 1780 and housed around 250 inmates. It closed in December 2013 and was bought by Hambleton District Council in June.
The public would be able to see behind the imposing walls of the East Road building, it said.
Shops and houses are to be built on it as part of a £5m regeneration scheme.
Council leader Mark Robson said he hoped rebuilding could start "as early as spring next year".
The prison contains five listed buildings and was closed by the Ministry of Justice after 230 years of use.
Mr Robson said: "We know a lot of people are keen to get to see what is behind that wall.
"We have worked hard to gather information on the prison which we hope will give a short insight into its history and life there."
When the closure was announced, with the loss of 135 jobs, the town's mayor said it was a "disaster".
The news came a month after the town's Rural Payments Agency office closure was announced with 350 jobs being relocated.
Booking for the free tours is to open on 13 July, the council said.