York flooding to be looked at by independent inquiry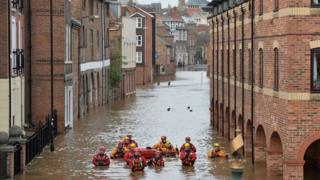 An independent inquiry into flooding in York will not be a "witch-hunt", the leader of the city council has said.
Chris Steward, the authority's Conservative leader, said decisions taken needed to be scrutinised "in light of this era of unstable weather."
The review will look at the response to flooding in the city over the Christmas and New Year period.
It will also examine the decision to raise the Foss barrier one of the city's principal flood defences.
Hundreds of homes and businesses were flooded in the city after the Rivers Foss and Ouse burst their banks.
Mr Steward said the inquiry would be chaired by an independent person and all political groups would be invited to participate.
"We believe that an independent overview taking place promptly after the event is necessary both to answer residents' questions regarding the decisions that were taken and why, and to learn lessons for the future."
He said representatives from key organisations would be asked to give their account of the floods to a "select committee" style body.