New pumps confirmed for York's Foss flood barrier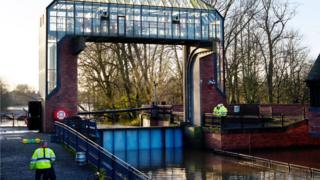 Eight new pumps are to be installed on a barrier that helps protect hundreds of properties in York from flooding.
The Foss Barrier was lifted during heavy flooding over Christmas because of fears the neighbouring control room would be flooded.
The Environment Agency said it was also planning to construct a new control room.
The work, part of a £13m project, is expected to be completed by November 2017, the agency said.
York's Labour MP said the barrier upgrade would be a "huge relief" to residents.
Rachael Maskell said: "I am really glad that the Environment Agency has knuckled down and got this moving really quickly."
The agency said the new pumps would be about 25% more powerful and capable of moving 40 tonnes of water per second compared with the 30 tonnes a second of the current pumps.
The River Foss is a major tributary of the River Ouse and the two merge at York.
The Foss Barrier was opened in 1987 in response to severe flooding in 1982.
It consists of a moveable gate that is dropped into position to stop the River Ouse forcing water back up the River Foss.
As the barrier stops the flow of the Foss, the eight high volume water pumps are used to move water around the barrier into the Ouse to maintain a steady water level.
Tony Andryszewski, flood defence engineer with the Environment Agency, said work was expected to begin in April.
"The barrier is fully operational, it was used successfully at the weekend, and we will ensure that barrier remains fully operational throughout the works."