Four arrested over stowaways in lorry found near Boroughbridge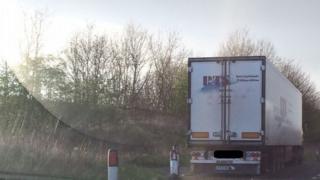 A driver and three suspected illegal immigrants have been arrested after a number of people were spotted getting out of a lorry on a busy road.
The group of at least 11 were seen exiting the vehicle on the A168, near Boroughbridge, on Thursday.
A 49-year-old man from Lithuania and three men believed to be Kurdish, aged 20, 24 and 29, have been arrested on suspicion of immigration offences.
North Yorkshire Police said three women and five children were with the group.
The force said it believed a further five men may still be missing after receiving reports a group of men of Asian appearance were seen walking north along the A1.
A spokesman said the women and children had been transferred into the care of the local authority while the four men arrested are being held in police custody.
Police have appealed for anyone who may have seen the missing men to come forward.