Restored Whitby lighthouse set to reopen in May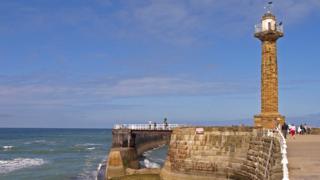 A 19th Century listed lighthouse on a pier in Whitby is to be reopened to the public following restoration work.
The West Pier lighthouse has had a new roof as well as repairs to the stonework, windows and staircase.
It was closed to visitors in 2012 but the council received almost £90,000 from the coastal revival fund and it is set to reopen in May.
The 1832 structure stands 72ft (22m) high and could cast a light for more than 10 miles (16km).
The lighthouse ceased to be used for navigation in 1914 and the building was given Grade II listed status in 1972.