Richmondshire Museum exhibition features A1 Roman artefacts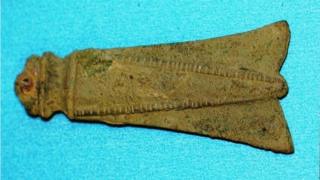 Artefacts unearthed by archaeologists during major works to upgrade the A1 in North Yorkshire have gone on display.
More than 50 items, featuring coins, gaming counters and a wooden comb, have gone on show at Richmondshire Museum.
During the two-year road project, archaeologists discovered more than 200,000 items and sieved more than 84 tonnes of sediment samples.
Researchers said the A1 would have also been an important strategic route 2,000 years ago.
Read more on this story and others from across Yorkshire
The Northern Archaeological Associates (NAA), which carried out the dig, said it was fascinating to discover nearly 2,000 years ago the Romans were using the A1 as a major route.
Other items on show also include "a UK first" in the form of a Roman cicada brooch made in Pannonia - a region that today includes parts of Hungary, Austria, Slovenia, Croatia and Serbia.
Archaeologists said the brooch was evidence of a multi-national population, or long-distance trade with Catterick.
Dr Hannah Russ, from NAA, said: "The quality and preservation of the artefacts and environmental remains from this scheme is outstanding.
"We are learning so many new things about the people who were living in the vicinity of the A1 in the past and I am delighted that we are now able to share our discoveries."
Much of the work has focused on sites along the Great North Road - an ancient road which ran adjacent to the path of the current A1.
Dr Russ added the road would have been an important strategic route - just as it is today.
The exhibition runs until October.