Archbishop of York completes six-month pilgrimage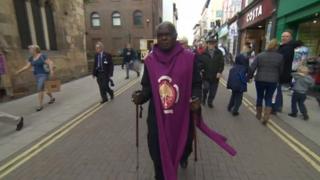 The Archbishop of York Dr John Sentamu has completed a six-month pilgrimage around the North East of England.
He began his trek in Whitby, North Yorkshire in December and completed the 2,000-mile journey at York Minster.
During his travels, Archbishop Sentamu is thought to have met around 20,000 people.
The 66-year-old spent six days in each of the 21 deaneries of the Diocese of York and walked a "sizeable distance" through them all.
Archbishop Sentamu said he had visited over 100 schools and also called in at hospitals, churches, hospices, farms and shops on his "exciting and wonderful" trip.
He said: "The schools we have in the diocese are the best in the country.
"I have not found a single school that I would not be happy to send my child to."
Despite a sunny end to his journey at York Minster, the diocese' mother church, Archbishop Sentamu said he encountered some difficult conditions along the way.
"During a very cold, rainy period when we were walking to Redcar there was a long 16-mile trek through a lot of mud," he said.
"We went through places you couldn't see ahead of yourself because the fog was so strong."
Archbishop Sentamu embarked on a similar journey in 2005 when he was the Bishop of Birmingham.