Ampleforth College: Police investigate bungled abuse probe claims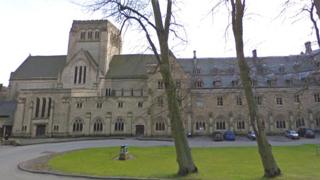 A police force is investigating claims by The Times that it bungled an inquiry into alleged sex abuse at a school.
It centres around the case of Paul Sheppard who was cleared last year of indecently assaulting a boy in 1989 at Ampleforth College in North Yorkshire.
The Times says North Yorkshire Police failed to speak to two ex-pupils whose accounts could have led to Dr Sheppard being questioned about other child sex offences.
He denies any wrongdoing.
The force has asked the newspaper for details of the two former pupils.
The Times also says former pupils, who were told at the 11th hour they would not be giving evidence against Dr Sheppard, were falsely assured by police they were not required in court because their written statements had been accepted by the defence.
That explanation was not true, the paper says, while the former pupils claim the way the case was conducted by police and the prosecution was "shambolic".
Commenting on The Times report, North Yorkshire Police's Assistant Chief Constable Lisa Winward said: "This complex investigation spanned two years, and despite considerable police efforts to present a strong case on a number of allegations to the CPS, it was hugely disappointing that not all of these were heard in court."
She urged the two former pupils who have information to come forward and speak to police.
Witnesses misled?
"Until we know who they are, it is not possible to confirm whether or not they were known to the investigation at the time," Ms Winward added.
"If offences have been committed involving other pupils, we will investigate them thoroughly. If there is new evidence to consider, and new matters to investigate, then we will do so.
"In relation to the allegation that witnesses were misled when they were advised that they were no longer required to attend court, we have launched an internal investigation to establish who spoke to the witnesses regarding their statements.
"Our investigation will look at the timeline of the court proceedings and what was said, in order to establish whether they had been intentionally misled as the newspaper has reported."
Ampleforth College said in a statement to The Times that its headmaster Father Dominic Milroy had investigated the pupils' allegations in 1989 but concluded they did not amount to claims of "sexual impropriety".
Dr Sheppard did not respond to questions put to him by The Times.