York's Foss flood barrier: New pump to be installed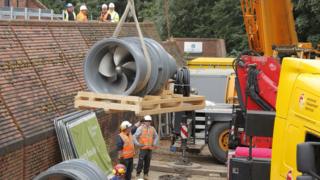 The first of eight new high-capacity pumps is to be installed at the Foss Barrier in York as part of a £17m upgrade to the city's flood defence.
The work is being done after hundreds of homes flooded in the city in December, when the barrier was lifted to prevent the control room flooding.
John Findlay had to leave his home on Fishergate after it was badly damaged by floodwater.
He said he was still not sure if he would be back before Christmas.
"It would be nice to spend Christmas in Fishergate with our friends and neighbours, we have had some great times down here," he said.
"There is a possibility as the work is continuing, but it doesn't look like that will be the case."
Read more on this and other stories from BBC Local Live: York and North Yorkshire
The Foss Barrier was opened in 1987 in response to severe flooding in 1982.
It consists of a moveable gate that is dropped into position to stop the River Ouse, forcing water back up the River Foss.
The Environment Agency (EA) has said the new pumps will be about 25% more powerful than the current ones, capable of moving 40 cubic metres of water per second compared with the 30 cubic metres a second of the old pumps.
The EA said: "Normally, this type of work would take three to four to four years to carry out but we are looking at doing it in two."
Environment Secretary Andrea Leadsom visited the barrier on Monday, and said: "The flooding of the Foss Barrier became a focal point of last winter's devastating floods and I am delighted to see it strengthened ahead of this winter... so our great city of York is better protected than ever before."