Charity abuse inquiry for Ampleforth Abbey and Ampleforth College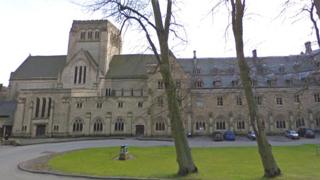 An inquiry is to be held into how a leading Roman Catholic school deals with allegations of sexual abuse and safeguarding issues.
The Charity Commission said the inquiry will investigate charities which administer Ampleforth Abbey and Ampleforth College in North Yorkshire.
The regulator said it followed "recent media reports" of alleged sexual abuse linked to the college.
The Abbey and school said they were co-operating fully.
The Charity Commission said the inquiry would not investigate allegations of abuse or actual incidents of abuse.
Read more about this and other stories from across North Yorkshire
It said it would focus on the management and governance of the charities, whether they have fulfilled their legal duties and whether there has been any misconduct or mismanagement.
It will also look at how safeguarding policies are implemented and how the charities dealt with the risks arising from alleged abuse incidents.
The commission has not indicated when the inquiry will be completed.
It said: "The investigation follows media reporting regarding individuals with links to Ampleforth College in connection with allegations of sexual abuse."
Ampleforth College is a co-educational independent school, with just over 500 pupils aged 13 to 18. Boarding fees are around £33,000 a year.
The college was founded in the 19th century by the neighbouring Benedictine Ampleforth Abbey.
It also has a preparatory school, St Martin's, which takes boys and girls aged 3 to 13.
In November, North Yorkshire Police said no action would be taken against the Abbot of Ampleforth over an allegation of indecent assault at the college in the 1990s.
Abbot Cuthbert Madden had always denied any wrongdoing.
The force is also investigating claims by The Times that it bungled an inquiry into alleged sex abuse at the college.