Kellingley mining subsidence claims 'ignored'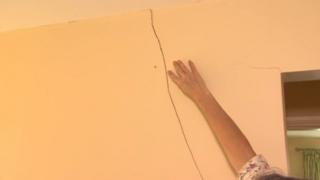 People whose homes have been damaged by mining subsidence have said their claims for repairs are being "ignored".
Work at Kellingley Colliery has caused floors to tilt and cracks to appear in walls and ceilings in about 250 homes, residents in nearby Hensall, North Yorkshire said.
In one case a house was so badly damaged it had to be demolished.
The Coal Authority said it was dealing with the issues in a "timely manner" and had made repairs to 50 homes.
Read more about this and other stories from across North Yorkshire
The village is around five miles (8km) from the colliery, which closed in 2015.
The subsidence is usually caused by a shift in the ground surface due to collapses in underground mine workings.
'Broke our hearts'
Hazel Hardgrave, 70, and her husband Frank, who is 80, spent five years trying to get their home of 47 years repaired or rebuilt.
The damage was so severe it was eventually purchased and demolished by UK Coal in 2015.
"It broke our hearts to leave that house," Mrs Hardgrave said.
Angela Wilson said she had cracks in almost every room of her home and no repairs had been made.
"We have been battling it out for three years," she said.
Claims for subsidence caused by mining originally rested with Kellingley's owners, UK Coal. However responsibility passed to the Coal Authority in January 2016.
Complaints about delays in agreeing repairs and processing claims are now being collated by a village action group.
Its chairman Howard Newitt said he had received hundreds of complaints.
"Nobody asked for this," he said. "We feel we are at the end of the process and are being disregarded."
A Coal Authority spokesman said: "We are only able to carry out repairs once we know that coal mining subsidence will not cause further damage.
"In Hensall this means that we could not schedule inspections and repairs for some properties until recently."
It said it had carried out repairs to more than 50 properties so far.