Selby 'Biggles' cocaine pilot has jail term cut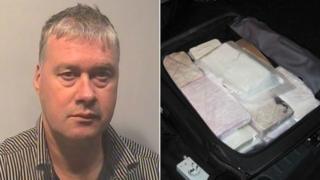 A pilot nicknamed Biggles who was jailed for flying 268kg (591lbs) of cocaine into the UK has had his sentence reduced.
Andrew Wright, 53, from Selby, was sentenced to 19 years in February 2016 after he pleaded guilty to conspiracy to import £33.5m of cocaine.
He used his aerial photography firm, Skyviews R Us Ltd, as a cover to smuggle drugs from Germany to the UK.
Following an appeal his sentence was cut to 16 years.
For more stories from across Yorkshire
Wright's fellow conspirators Mark Dowling and Jamie Williams were jailed for 24 and 23 years respectively.
According to a Court of Appeal ruling in February, though Wright's role was "absolutely vital" to the operation, he had been "dealt with too harshly".
In their written ruling Lord Justice Treacy, Mr Justice Holgate and Judge Griffiths-Jones said the sentencing judge did not "sufficiently reflect the differences" between Dowling and Wright, who were more heavily involved in the operation.
"We are persuaded therefore that the sentence imposed on Wright was in the circumstances too long," they said.
The drug smuggling ring was uncovered in November 2014 when border control found four bricks of cocaine in the boot of Wright's Porsche Cayenne and a further 30 hidden in the tail section of his plane.
Wright, who was paid £1,500 per kilo he imported, would collect the drugs, from Williams, at Kassel airport in Hesse, Germany, before flying back to Breighton Airfield in Selby, North Yorkshire.
Having returned to the UK, Williams would collect the drugs from Wright and deliver them to Dowling.
The gang used several literary references, including W E Johns fictional pilot Biggles, as part of the racket.