York memorial to cholera pioneer Dr John Snow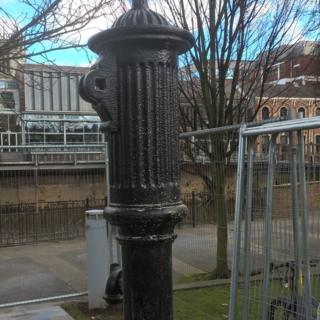 The man who traced the source of a major outbreak of cholera in London in 1854 has been honoured with a memorial near his childhood home.
Dr John Snow was born into a labouring family in York in 1813 and at 14 he was apprenticed to a surgeon.
During the Soho outbreak he identified the disease was waterborne and convinced the authorities to remove the street water pump's handle.
The memorial in North Street gardens is a model of a Victorian water pump.
Read more about this and other stories from across York and North Yorkshire
Descendants of Dr Snow, including his great-great-nephew, Geoff Snow, attended the unveiling on the anniversary of his birth.
Dr Snow had moved to London in 1836 to continue his medical studies.
He became a sceptic of the dominant theory of the period that cholera was caused by "miasma" or a noxious form of "bad air".
In order to try and identify the source of the 1854 outbreak he mapped the addresses of those who died and talked to residents.
This lead to him identifying the public water pump as the source of the disease.
The memorial was organised by the York Civic Trust, York Medical Society and the University of York.
David Fraser, chief executive of York Civic Trust, said: "John Snow is one of the most important people our city has ever produced - his work has had profound implications on a global scale.
"I do hope that when young people see his memorial as they pass by the gardens in North Street close to his birthplace, they will see John Snow as an inspiration to be followed.
"It really is possible for a person of ordinary background to change the world for the better."