Ironstone mining project for North York Moors National Park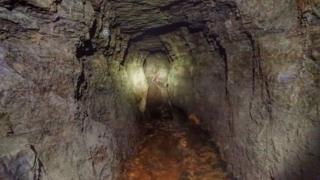 The legacy and landscape of ironstone mining on the North York Moors will be celebrated in a four year project.
'This Exploited Land of Iron' examines ironstone and the railways through art, archaeology and conservation.
The North York Moors National Park said the moors made a "huge contribution" to the industrial revolution.
Virtual 3D models of ironstone kilns in Rosedale and blast furnaces in Grosmont will be created as part of the project.
Warren Moor mine, the only Victorian ironstone mine chimney still standing in the UK, will be opened to the public for the first time and ironstone trails across the moors will be created.
Conservation efforts include planting rowan trees for the endangered Ring Ouzel - which nests in Rosedale during summer - and surveying the Fen Bog nature reserve.
Tom Mutton, of North York Moors National Park, said: "The Victorians blazed a trail in the North York Moors with the discovery and subsequent mining of ironstone.
"With many archaeological remains of this historical period continuing to melt back into the landscape as nature reclaims them, recording this legacy will be as important as the work to slow down the degradation process and preserve the biodiversity which the area supports."
The project covers 14% of the national park, from Goathland in the east, north along Stephenson's rail route to Grosmont, along the Esk Valley to Kildale and over the Moors to Rosedale.
It was launched with a three-week art exhibition and one-day festival at North York Moors National Park Centre at Danby.
Andrew Scott, from the National Park, said: "The role of North York Moors communities in launching the age of iron and steel will be discovered and enjoyed by new generations of visitors to the National Park."