Drax primary school with 10 pupils set to close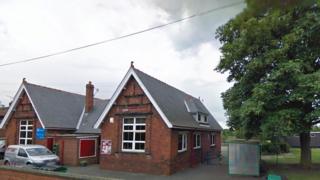 A primary school with just 10 pupils is to close at the end of the academic year.
Pupils at Drax Community Primary School, near Selby, will transfer to Camblesforth Community Primary School two miles (3.3km) away.
Pupil numbers have fallen from 52 in 2013/14 and were predicted to fall further.
The council said the school would face a deficit of £100,000 by the end of 2018 if it remained open.
It also said there was unlikely to be any significant new housing in the school's catchment area.
Read more about this and other stories from York and North Yorkshire
Pete Dwyer, from North Yorkshire County Council, said the authority remained supportive of small rural schools, saying it had 50 schools with fewer than 50 pupils.
He added: "But in very small schools like Drax, the council has a responsibility to look into the quality and breadth of education that they can continue to provide and for the school's financial viability."
He said low numbers resulted in less funding and reduced what could be offered to pupils.