York Art Gallery hopes to buy £3.6m Albert Moore picture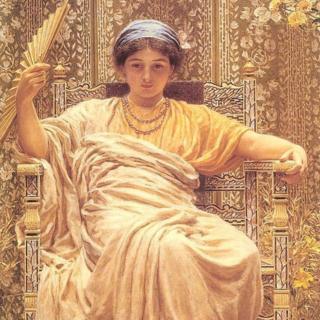 An art gallery has launched a campaign to raise more than £3m to purchase a picture by a Victorian artist.
York Art Gallery is currently showing more than 30 works by Albert Moore, who was born in York, in the first solo exhibition of his work since his death in 1893.
It includes A Revery, which the gallery wishes to purchase for £3.6m.
The gallery said it was a "rare opportunity" for a public collection to acquire such a significant painting.
Read more about this and other stories from across York and North Yorkshire
It said it hoped to raise the £3.6m through grants from the Heritage Lottery Fund, the Art Fund and public donations.
Laura Turner, senior curator of art, said: "Albert Moore was an incredible artist and A Revery is one of his most significant later works.
"It would mean York Art Gallery would become the permanent home to one of his most outstanding works.
"It would also allow us to secure a significant part of York's artistic heritage to be enjoyed by visitors for years to come."
Albert Moore was born in York in 1841 and was the youngest son of painter William Moore.
He had 14 brothers and sisters, including two other well-known artists, Henry Moore and John Collingham.
He went on to study at the Royal Academy in London and eventually became a leading member of the Aesthetic movement, which included artists such as Edward Burne-Jones and James McNeil Whistler.
The movement championed pure beauty and art for art's sake over practical, moral or narrative considerations.