Clifford's Tower visitor centre decision reserved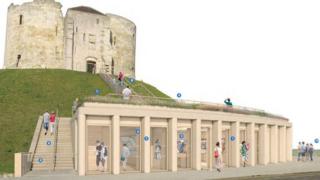 Campaigners opposed to the building of a visitor centre at the foot of York's Clifford's Tower will have to wait for a decision over their legal challenge.
City of York Council approved English Heritage's £2m plan for the centre below the 13th Century tower October.
But, campaigners challenged the legality of the planning process, forcing a judicial review.
However, after a day-long hearing the judge, Mr Justice Kerr, announced he would reserve his judgment.
Mores stories from across Yorkshire
The judge said his role was not to decide on the merits of the planning application itself but to assess whether the planning law was correctly applied.
He said the controversy had "sharply divided local opinion" and that "the castle is of enormous importance to everybody".
However, he stressed the merits of the council's decision had "nothing to do with the issues I have to decide".
Campaigners have previously likened the proposed building to a "toilet block".
The challenge has been led by independent city councillor Johnny Hayes, who raised money for the judicial review bid through a crowdfunding site after more than 3,000 people signed a petition against the development.
His barrister, Anthony Crean QC, argued that planning officers had misinterpreted planning guidelines when they reported to councillors ahead of last year's decision.
But David Elvin QC, for York City Council, said the officers' interpretation had been correct and, even if they had been wrong, it wasunlikely to have had an effect on the eventual outcome.
Emma Dring, for English Heritage, said her client supported the council's submissions.
---
Clifford's Tower
The stone tower was built in the 1250s replacing an earlier wooden structure.
It sits on top of a castle mound created by William the Conqueror in 1068.
It was the site of a major attack on the city's Jewish community in 1190.
The stone tower was reduced to a shell by a fire in the 1680s.
It is the only remaining structure of the city's castle. Most of the buildings were destroyed in the 18th and 19th Centuries when the city's court and prison were built.
The tower was surrounded by the Victorian prison until the 1920s.
Source: English Heritage
---