Waxy lumps washed up on North Yorkshire beaches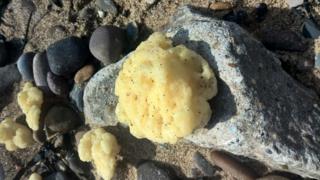 Large lumps of a yellow waxy substance have been washed up on beaches along the North Yorkshire coast.
The material has been reported from Sandsend near Whitby to Cayton Bay south of Scarborough.
North Yorkshire Fire Service has identified the substance as paraffin wax "which is low risk to humans, animals and the environment".
Scarborough Borough Council said it was working on a plan to remove the substance from the shoreline.
More on this and other North Yorkshire stories
Council director Nick Edwards said there was no information "as to the cause of the pollution or where the paraffin wax substance has come from".
He said: "While the presence of paraffin wax on the coastline should not deter people visiting our beaches, we ask people to use common sense, not handle the substance and also keep dogs and children away from it."