North Yorkshire County Council: Conservatives hold with large majority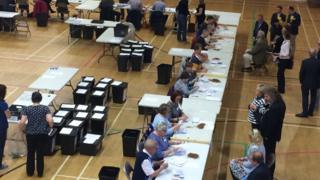 The Conservatives have strengthened their hold of North Yorkshire County Council gaining 10 seats.
The gains came at the expense of all the other parties though it lost one seat - Tadcaster - to an independent.
UKIP failed to hold its two seats on the authority whilst the Liberal Party lost its two county councillors.
The Conservatives now have 55 of the 72 seats. There are 10 councillors who are independent and have no party affiliation.
Labour lost three of the seven seats it was defending and the Liberal Democrats lost two of the five seats they held previously.
Election 2017: Full results from across England
Conservative leader of the council, Carl Les, said: "It is a vindication of the way the party has been leading the council now for almost a quarter of a century.
"I do not believe we have a monopoly on wisdom and we will listen to other parties and other members if they come forward with practical and reasonable suggestions for us to consider.
"We have not finished with austerity, we will still have to find savings and we will do that."