Rory Johnson-Hatfield York river searches to resume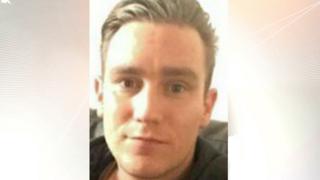 Searches for a man who went missing in York in 2015 are to resume, police have confirmed.
Rory Johnson-Hatfield, 29, from Skipton, disappeared after a night out in November and police feared he had ended up in the River Ouse.
Extensive searches for him at the time failed to locate him.
North Yorkshire Police said a review of the case was under way and an underwater team would conduct fresh searches of the river.
Read more about this and other stories from across Yorkshire
Mr Johnson-Hatfield was in the Postern Gate Wetherspoon pub with a friend at 23:30 GMT on 19 November. He later left York Central Travel Lodge on Piccadilly at 00:15 on 20 November and went to a pub with a fellow hotel guest.
He did not return to the hotel and failed to arrive at work the following evening.
Police said the review of the case followed a meeting with Mr Johnson's mother, Elizabeth, who has previously asked for new searches.
Assistant Chief Constable Phil Cain said: "It was agreed with Mrs Johnson that due to the recent appointment of a new Deputy Commander for York, we had the opportunity to have a fresh pair of eyes conduct a review of Rory's disappearance, which is currently under way.
"As part of the review, all lines of inquiry will be assessed to ensure we continue to seek to understand what has happened to Rory."
He said the new river searches would concentrate on an area south of York between Naburn Lock and Selby which was last been searched in February 2016.