Legal blow for Clifford's Tower visitor centre opponents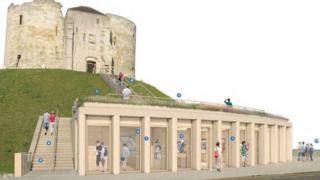 Campaigners opposed to a planned visitor centre at a historic Yorkshire monument have lost their High Court challenge.
English Heritage's £2m scheme below the 13th Century Clifford's Tower in York was given the go-ahead by the local council in October.
Protesters called for a judicial review and likened the design to a "toilet block".
However, the High Court in London has rejected all grounds for a challenge.
Mr Justice Kerr refused campaigners permission to appeal on the grounds they had "no real prospect of success".
They were given 14 days to ask the Court of Appeal directly to consider their case.
At an earlier hearing, the judge said his role was not to decide on the merits of the planning application itself but to assess whether planning law was correctly applied.
Jewish massacre
Clifford's Tower is the last remaining part of York Castle, which was once the focus of royal power in the north of England.
In 1190 it was the site of one of the most notorious incidents in English history, when about 150 Jews were massacred after taking refuge there.
The proposals include a gift shop and interpretation centre.
Independent city councillor Johnny Hayes had led opposition to the development claiming there had been a failure to assess the significance of the tower and its setting.
He also alleged planning guidelines had been misinterpreted.
Campaigners were ordered to pay £5,000 towards the City of York Council's legal costs.