York plaque honour for John Barry, James Bond composer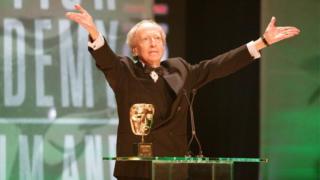 A memorial plaque has been unveiled for composer John Barry, famous for his work on the James Bond films, Born Free and Out of Africa.
Barry's renown will live on with a blue plaque outside his childhood home, now the York Pavilion Hotel in Fulford.
The composer, who died aged 77 in 2011, was born in the city and scored more then 90 films but may be best known for his work on a dozen James Bond films.
He received an OBE in 1999 for his services to music.
Live updates and more news from Yorkshire
Barry was given an honorary degree from the University of York in 2001, named an Honorary Freeman of the City of York a year later and was awarded a Bafta Fellowship in 2005.
His widow Laurie and son Jonpatrick Barry travelled from America to attended the plaque unveiling earlier.
David Fraser, of York Civic Trust, said of Barry: "His musical skill did not come out of nowhere, his mother was a concert pianist and his father originally ran a cinema showing silent films and his father often had film stars to visit.
"At St Peter's School in York he took lessons from the organist of York Minster, learning the building blocks of music and he worked very hard at his studies."
Barry was born in York in 1933.
One of his best-known Bond theme songs was Goldfinger, originally belted out by Shirley Bassey in 1964.
He also won five Oscars for the films: Born Free, that earned him two statuettes, The Lion in Winter, Out of Africa and Dances with Wolves.
Classic John Barry Scores include
From Russia With Love
Goldfinger
Zulu
Born Free
You Only Live Twice
The Lion in Winter
Midnight Cowboy
Diamonds are Forever
Out of Africa
Dances with Wolves
Chaplin