Clay faces installed to stop fly-tipping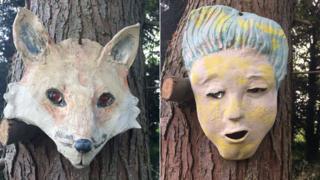 Clay faces are being displayed on trees and fences in North Yorkshire in an attempt to stop fly-tippers.
Selby Council decided to try the scheme after similar projects elsewhere led to a reduction in littering.
The unusual faces of humans and animals were created at community art sessions run by Hope Creative Cafe.
Councillor Richard Musgrave said they were "a good visual reminder" that people were being watched by the community and could be reported.
Dumping waste is a criminal offence which could lead to an unlimited fine and possible prison sentence.
He said: "This has been an unusual and inventive way to work with a local community group to help tackle behaviour we all find disgraceful."
The council announced last week that mobile CCTV cameras will be used in fly-tipping hot spots to deter criminals from illegally dumping waste.
The clay faces are being offered to parish councils who will decide on their locations.
The Hope Creative Cafe is a partnership between local organisations Magnetic Arts and Brighter Futures.
A representative of Hope Creative Cafe said: "They are striking pieces that form an outdoor sculpture trail and we hope they are enjoyed by residents across the district."