'Rude and offensive' Hawes bookshop owner is selling up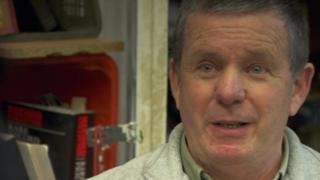 A bookshop owner whose "rude and offensive" attitude sparked more than 20 complaints is selling up.
Steve Bloom, who charges a 50p entry fee for Bloomindales in Hawes, North Yorkshire, said there were a "number of factors" in his decision to sell.
But he admitted that "aggravation" was one of the deciding factors to go.
In January he was branded a "bookseller from hell" by Hawes Parish Council, after he called a customer "a pain in the arse".
Mr Bloom put a "book shop for sale" sign in the window of the second-hand business he has run for 15 years. He said: "I must have been feeling a bit low."
More on this and other North Yorkshire stories
The 64-year-old hit the headlines earlier this year when the customer complained to the council.
Mr Bloom was "rude and offensive" and he should change his ways, the parish council said.
Mr Bloom said the authority had mounted a campaign to get him out following the complaints, which included some relating to his policy on charging the fee, refundable on purchase of a book.
"They failed to get rid of me, they could not get rid of me, so I won," he said.
Two complaints
But he admitted that him leaving of his own accord had given the authority the "victory" it wanted.
John Blackie, chairman of the parish council, said Mr Bloom was "the author of his own misfortune".
"We haven't driven him out. But we're glad that he's going," he said.
Mr Blackie said two complaints had been made this month, one by a group of 15 visitors.
A retired couple was taking on the business and they would "not be charging a 50p entry fee", he added.
Mr Bloom said he would continue in the book trade, selling at fairs and online.