Campaign to preserve York Minster's medieval windows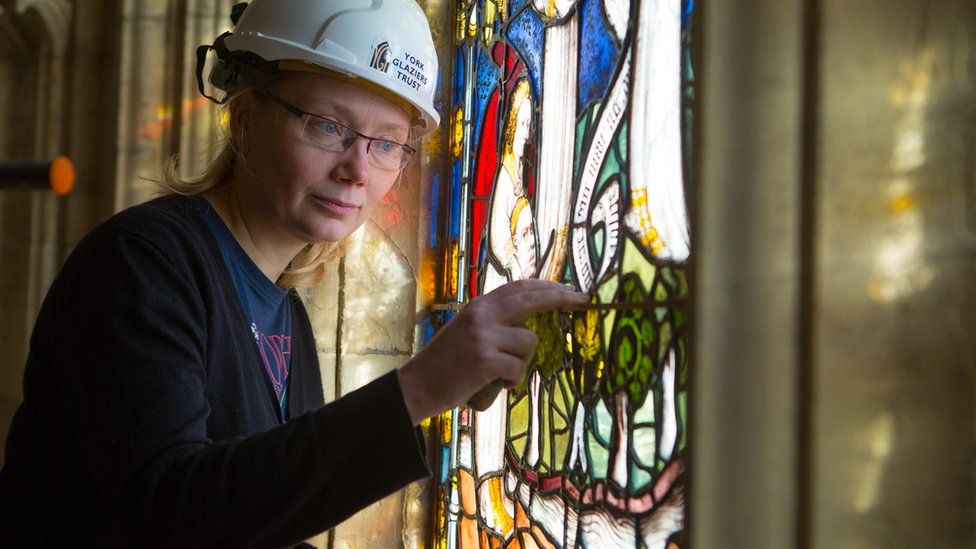 An £11m fundraising campaign is being launched to preserve the medieval stained glass windows of York Minster.
The cathedral announced a 20-year partnership with York Glaziers Trust to ensure all its 128 windows have environmental protective glazing.
It will halt the decay and buy time for conservation work on the windows which date to the 12th century, it said.
Currently 74 out of 128 stained glass windows are exposed to the elements and subject to corrosion and decay.
The cathedral has teamed up with the York Minster Fund (YMF) and the Heritage Lottery Fund (HLF) to raise the money.
A grant of up to £1m from the HLF will match every pound raised by the public and YMF.
That will be used to establish an endowment fund to help pay for the £11m project.
The Very Reverend Vivienne Faull, the Dean of York, said: "Currently almost 60% of this precious and irreplaceable glass has no external protection from the environment, which means that moisture in the air is causing damage to our windows faster than we can conserve them.
"Condensation which builds up on the glass causes it to corrode and the paint to deteriorate and flake away. We're therefore in a race against time to protect these irreplaceable works of art for future generations."
Nicolas Barker, chairman of trustees of the York Glaziers Trust, added: "The cathedral has historically led the way when it comes to protecting its stained glass.
"In 1861 it was the first British cathedral to provide protection for its windows, and more recently it has been the first building in the UK to employ state-of-the-art UV resistant glazing on its Great East Window."
Three windows from the cathedral's North Nave Aisle, which are currently being conserved, will be the first to have external glazing completed.
Related Internet Links
The BBC is not responsible for the content of external sites.