In pictures: Whitby Steampunk Weekend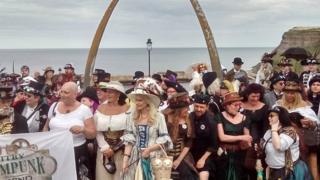 Hundreds of people from around the UK have taken part in the Whitby Steampunk Weekend.
The festival at Whitby Pavilion featured fire breathing, cabaret and martial arts for Victorian gentlemen.
Organisers said the aim of the event - called Beyond The Sea - was "to welcome splendid people", and have fun.
Steampunk has been described as "nostalgia for what never was" and draws on a wide variety of influences from HG Wells to comics.